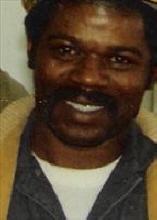 Obituary for Eligha Jr. Moore
Eligha Moore, Jr. was born September 13, 1946 to the late Mr. & Mrs. Eligha Moore, Sr. in Hazen, Arkansas.  He departed this life on October 19, 2008 at his home in North Little Rock, Arkansas.
He professed a hope in Christ at an early age and was preceded in death by one sister, Sandra Moore.
He leaves to mourn his former wife and caregiver, Mary A. Moore; two children, Egina Moore of North Little Rock, and Damon Moore of Columbus, Ohio; one very special grandchild, Tia Simone Milton; Six brothers, Robert Anderson of Davenport, IL; Myron Moore of Topeka, Kansas; Kenneth Moore of Jacksonville, Arkansas; Emanuel Moore, Vernon Moore, and Ronnie Moore of Hazen, Ar; Four Sisters, Geraldine Watkins of North Little Rock, Shirley Penn of San Antonio, TX, Barbara and Marilyn Moore of Hazen, Arkansas, and a host of relatives and friends.
Visitation will be 5-6pm Monday October 20, 2008 at Larry G. Acklin Funeral Home .  Graveside services 11am Tuesday Perkins Cemetery North Little Rock, Arkansas.  Arrangements entrusted to Larry G. Acklin Funeral Home 8821 Colonel Glenn, Little Rock.  "IN YOUR TIME OF NEED...... WE CARE".