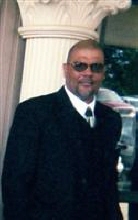 Obituary for Bobby E. McDowell, Sr.
Mr. Bobby McDowell, Sr., 56,  of Jacksonville, AR,  departed this life November 25, 2011.   Bobby was born February 18, 1955 in Morrilton, AR to Louisa McDowell Strickland. One son, Michael Longinotti and one brother, Robert Rosbia preceded him in death.
Bobby was employed at NAPA Auto Parts as a supervisor until his death. Bobby was a member of the UAPB graduating class of 1977 and a member of the Phi Beta Sigma Fraternity. Bobby loved his children, grand children and his family. He enjoyed fishing and hunting.
Bobby graduated from Morrilton High School in 1973. During his high school years he excelled in basketball, football and track. He was a member of the State Basketball Champions in 1973 known as the 'Super Team' and a member of the 1971 Football State Champions. He has a track record that has yet to be broken.
Bobby leaves to cherish his memories one son, Bobby Earl McDowell, Jr of Little Rock, AR; one daughter, Hope Nicole Strickland Lewis (Carlos Sr) of Bryant, AR; Four granddaughters, Aniya McDowell of Little Rock, AR, Aarika Agee, Alexandria Agee, and Kayla Lewis of Bryant, AR; one grandson, Carlos Lewis Jr of Bryant, AR; His long time companion, Connie Longinotti of Jacksonville, AR, and her children Mark Longinotti of Alexander, AR, and Maria Jones of Shannon Hills, AR; mother Louisa McDowell Strickland of Morrilton, AR; two brothers, David Lee McDowell (Jacquelyn) of Little Rock, AR and Harold Earl Strickland (Mavis) of Morrilton, AR; Three sisters, Mary Ann Clemons (Bobby) of Plumerville, AR, Laura Ann George (Jesse) and Hattie Strickland of Morrilton, AR, and a host of nieces, nephews and other relatives.
Funeral services for Mr. McDowell will be Saturday, December 3, 2011 at 1 pm at Greater Union Hill Missionary Baptist Church, Morrilton, AR by Rev. Glen Hershey. Family and friends visitation will be Friday, December 2 at the church from 6-8 pm. Burial will be in Chapel Hill Memorial Park in Jacksonville, AR. Arrangements entrusted to Larry G. Acklin Funeral Home 8821 Colonel Glenn, Little Rock. "IN YOUR TIME OF NEED...... WE CARE".