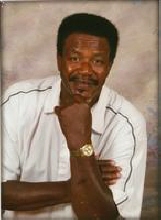 Obituary for Alex C. Jenkins, Jr.
Mr. Alex Jenkins, Jr. of Twin Groves, Arkansas departed this life December 14, 2009.  He was born December 28, 1945 to the late Alex Jenkins, Sr. and Ruthie Floyd Jenkins.
He was a concrete layer and construction worker.
Survivors include his wife, Queen Jenkins of North Little Rock, AR; one son, Alex Jenkins III, Memphis, TN; One daughter, Renee Jenkins, Memphis, TN; One brother, Carvis Jenkins, of Michigan; One sister, Beadie Anderson, of Little Rock, Ar.
Visitation will be Wednesday, December 23, 2009 from 5-6 p.m. at Larry G. Acklin Funeral Home-Conway Chapel.
Arrangements entrusted to Larry G. Acklin Funeral Home, Conway.  "IN YOUR TIME OF NEED.... WE CARE."