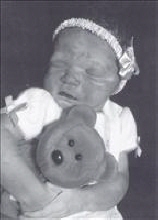 Obituary for Alanni Janae' Nelson
Alanni Janae' Nelson of Little Rock, departed this life June 12, 2009.  Survivors: Parents, Jeremy and Victoria Nelson; brothers, Deavion Nelson, Demarye Kidd; grandparents, Alice Nelson; Denise Brown, Paul McILveen; great-grandparents, aunts, uncles, relatives, friends.
Funeral services 11am Friday Larry G. Acklin Funeral Home Chapel.  Interment Calvery Cemetery.  Arrangements Larry G. Acklin Funeral Home 8821 Colonel Glenn, Little Rock 565-1800 www.larrygacklinfuneralhomes.com.  "IN YOUR TIME OF NEED.... WE CARE".